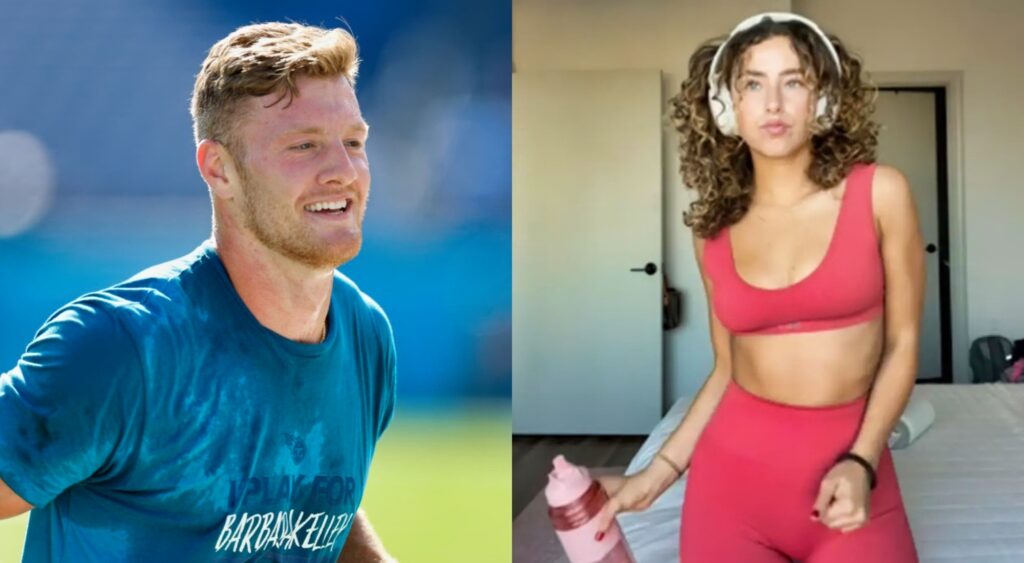 After a memorable viral stint during this year's NFL Draft, Gia Duddy continues to ride the wave of public attention.
During the draft, the spotlight often turned to quarterback Will Levis's reactions, mainly as he unexpectedly slipped from the first round and was later picked up by the Tennessee Titans in the second round.
Since Duddy relocated to Nashville with him post-draft, rumors began circulating about a potential breakup.
In a recent TikTok, Duddy hinted at some emotional turmoil, posting a video about eagerly anticipating a brighter October, indicating that September was challenging. This post fueled the ongoing speculations about her relationship with the Titans' rookie quarterback, especially since her last update related to Levis was from an August game.
COPYRIGHT_JM: Published on https://www.jm-amat.com/gia-duddy-shares-cryptic-message-after-will-levis-breakup-rumors/ by Isabelle Aoki on 2023-10-18T09:49:02.102Z
Hoping for brighter days, Duddy posted,
"October, please be good,"
Accompanying a clip of her, in sportswear, holding a water bottle and dancing in her room. She grooved to the lines "It's the first of the month" from Playboi Carti's track, "Sky."
"Using this sound because last month was NOT it and I can't risk repetition," hinting at troubles in September without providing specifics.
In another TikTok update, she got her followers buzzing when she was spotted wearing a Philadelphia Eagles cap.
Responding to speculations about her loyalty, she clarified, "Y'all, I'm from just outside Philly, relax," hinting she's a hometown fan. Still, it raised questions about her support for the Titans, given her connection to Will Levis.
Fueling further rumors about their relationship, Barstool Sports' "Pardon My Take" podcast reported a breakup between the couple after three years. Big Cat, also known as Dan Katz, one of the podcast's co-hosts, shared this news on his X account. However, specifics about the split were scarce.
While a representative for Duddy didn't respond to The Post's queries, neither Duddy nor Levis, a frequent guest on the "Pardon My Take" podcast, has spoken about the rumored split.
It's worth noting they still follow each other on Instagram, with their pictures together intact.